"Number 1" software provider for the car dealership & co in the DACH region
MMag. Mario Pichler has been Managing Director of the MOTIONDATA VECTOR Group since October 2020 and talks about changes and goals in an interview with "Auto & Wirtschaft".
What is the development goal?
The focus is to become THE player in the D-A-CH market. We are number 1 in Austria, but we also want to become that in Germany and Switzerland. We see very great opportunities in these countries, but we also have very great potential in Austria in terms of specific brands.
For example, we see the development around Stellantis as very positive because we are very well positioned with the dealers. We are also comparatively new to the premium segment at BMW and Mercedes and see potential.
What are the strengths?
The DMS alone will be too little in the future. We are therefore positioned as broadly as possible to achieve a close customer relationship. Either we have developed the solution ourselves or we can offer solutions from partners that are integrated via interfaces.
Which of your own solutions is currently in focus?
"The Sales Manager is the solution we invest a lot in. Making the complex process of selling a car as simple as possible is what we see as our task here. From the management of support, bonuses to trade-in vehicle valuation, financing, insurance or mobility guarantees, there are numerous issues to consider in this context. In addition, we now offer numerous solutions for making dealership services digitally available to the end customer, supported by valuable data directly from the DMS.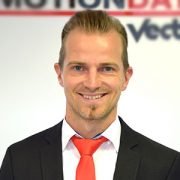 "We are the number 1 in Austria and want to become so in Germany and Switzerland as well"

MMag. Mario Pichler,
Managing Director of MOTIONDATA VECTOR Group
Source:
AUTO & Wirtschaft 07-08 2021
Prok. Gerald Weiss (Editorial Director B2B/Editor-in-Chief AUTO & Wirtschaft)