SO EFFICIENT & SIMPLE
WAREHOUSE LOGISTICS CAN BE!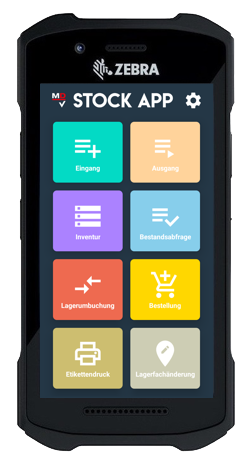 The new stock app from the MOTIONDATA VECTOR Group makes it possible. Warehouse logistics have never been so simple, intuitive and clear. From goods receipt to inventory – the Stock App with the lightning-fast Zebra scanner is the mobile workstation in and around the warehouse.
The basic functions cover the areas of goods receipt, goods issue, stock inquiry, stock transfer, change of storage compartment, goods order, label printing and inventory. The settings can be set directly in the DMS and are then simply synchronized with the app. Even identical part numbers from various suppliers are no problem for the app – it selects the one that suits it and at the same time draws attention to all other options. The administration of the settings in the DMS, the smart supplier assignment for part searches and the multilingualism offer the added value.
The user-friendly system also features a 5-inch HD touchscreen and is waterproof and dustproof, withstanding drops onto concrete as well as snow, rain, heat and cold. The high-performance battery ensures 14 hours of operation and is replaceable, which means that the stock app does not have to be taken out of operation for charging.
Also use this efficient warehouse logistics tool and get free advice and contact us by e-mail to sales@motiondata-vector.com or by phone 0043 316 / 25 55 99 – 1130.