New PSA Box and new interfaces available!
The MOTIONDATA VECTOR group is known for the constant market-oriented development of its brands. This currently applies in particular to Peugeot, Citroen, DS and Opel.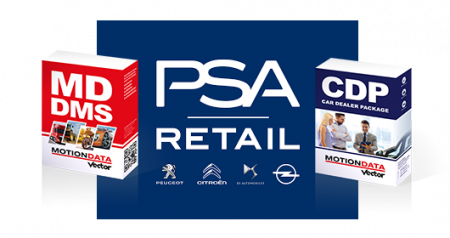 Good news for PSA partners using either MOTIONDATA DMS or the Car Dealer Package CDP as Dealer Management System! The new PSA Box is now available to PSA partners. The rollout process is already in full progress. We are glad to inform the PSA partners that this rollout will not incur any costs for you!
In addition, the PSA Box makes it possible to activate the new interfaces in the service and parts area and thus to carry out important processes such as ordering or delivery note acceptance with DMS support. New functions, such as warranty processing, are also available through the new PSA Servicebox V14 interface.
What do customers who already use the "previous" interfaces do?
The order of the new update is necessary, on the one hand, so that you can continue to use all previous functions without problems, but on the other hand, so that you can also use the new possibilities of PSA communication.
Use the advantages of the new PSA interfaces and order now using the order form which is available for download.
For further questions, please contact the MOTIONDATA VECTOR Group sales team in confidence by phone 0043 316/255599–1130 or by email sales@motiondata-vector.com.